Special Needs Dentistry

Albany, OR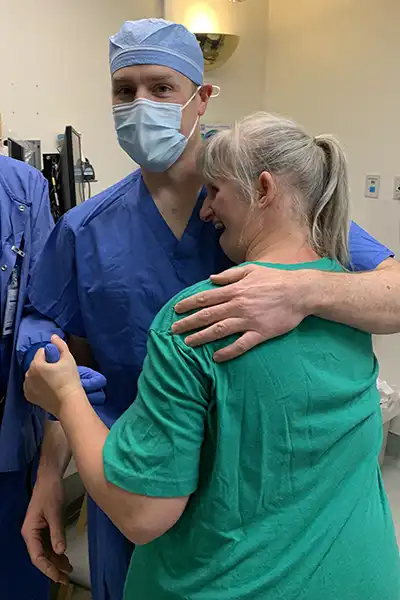 Dentistry for patients with special health care needs, or special needs dentistry, is a broad, but underappreciated area of dentistry. Patients who fall into this realm of medicine often come from a diverse background, and often have unique social and medical histories. Many times, patients with special health care needs face barriers to treatment, and access to care difficulties take many forms, from physical barriers, or simply finding providers trained to meet basic medical needs like preventative dentistry.

At Special Care Dentistry of Oregon, our mission is to provide a dental home for patients with special needs. Too often we hear stories of patients unable to find care for themselves or their loved ones. Our office provides exceptional care in our patient-focused practice model. Our goal at Special Care Dentistry of Oregon is to provide health equity among our patients with special needs.

The first appointment for any patient with special needs is a consultation with either Dr. Summers to get to know the particular needs of each and every patient, and develop a comprehensive plan to achieve optimal oral health.
So what do we mean when we say "special needs"?


Intellectual and Developmental Disabilities

Patients who have intellectual and/or developmental disabilities represent a large group of individuals, comprising of over 7 million individuals in the United States alone. People with intellectual disabilities may have differences in intellectual functions, learning, social interactions, behavioral regulation, as well as everyday life skills. Developmental disabilities are a more extensive group of differences, which may include physical and intellectual challenges. Some examples intellectual and/or developmental disabilities include autism spectrum disorders, Down syndrome, Rhett syndrome, cerebral palsy, Fragile X syndrome, fetal alcohol syndrome Smith-Magenis syndrome, and Angelman syndrome, to name a few.

We pride ourselves on taking exceptional care of all our patients at Special Care Dentistry of Oregon, with a particular focus on patients with intellectual and developmental disabilities. All too often, these patients are not able to find dental care, which can lead to systemic health or behavioral problems that significantly impact their quality of life. Because of our extensive experience, all of the team members of Special Care Dentistry of Oregon make it a priority to take the time needed to get to know every patients individual needs. We are able to offer care for patients with intellectual and developmental disabilities in our office, or when needed, at the hospital using general anesthesia and sedation dentistry.


Medical Complexities

Many patients in a typical dental office are being treated for at least one medical problem (eg, high blood pressure, diabetes, migraines, etc…). When a patient has a longer list of more serious medical problems, safe delivery of dental care can be compromised. In such instances, dental care for these more medically complex patients is better provided in a hospital setting under anesthesia. Dr. Summers has hospital privileges at Samaritan Albany General Hospital , Samaritan Lebanon Community Hospital , and Good Samaritan Regional Medical Center to provide care for these patients safely. The medically complex patients seen at Special Care Dentistry of Oregon can expect our team to coordinate care with medical providers to ensure the best treatment possible.


Behavioral and Mental Health Problems

While many people in the general population have some anxiety about visiting the dentist, some patients may have more advanced psychiatric or behavioral health issues that may make dental treatment in a typical dental office near impossible. Some of these mental health conditions can make dental treatment difficult, and something even debilitating. Some common conditions that we see at Special Care Dentistry of Oregon include bipolar disorder, schizophrenia, agoraphobia, and post-traumatic stress disorder, to name a few. In some instances, Dr. Summers may recommend an anti-anxiety medication to make the dental visit more comfortable. Other times, treatment under general anesthesia may be the only option to provide complete care for patients with behavioral and mental health problems.


Schedule an Appointment

If you would like to schedule an appointment for you or your family, please call 541-926-3689 today!